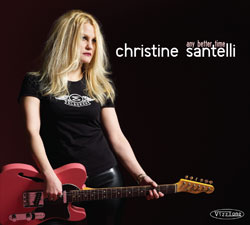 CD review by Roger-Z (05/15/09)
Appeared in More Sugar, June 2009, P. 32B
Listening to Christine Santelli's voice conjures up images of cigarettes, whisky, and love gone bad. Now if that's not the blues, I don't know what is. But she doesn't limit her music to the traditional shuffle. This CD, produced by guitarist extraordinaire, Dave Gross, showcases her voice and songwriting in a potpourri of musical forms -- from folk ballads to country, to waltzes, to roots rock. Players include Matt Mousseau (drums), Tim Tindall (bass), Jason Green (guitar, banjo), Brian Mitchell (keys), Arthur Neilson (guitar), Popa Chubby (guitar), Dave Gross (guitar), Gib Wharton (pedal steel) and Mazz Swift (violin).
On "Any Better Time," her seventh album, Santelli lets the hooks fly and land where they will. Longing, regret, guilt, and just plain sadness infuse everything. In the rocker "Good Day for a Hanging," she sings "Truck broke down, roots grey and brown... My lovin' dog has left me, I left the only bottle empty. It's a good day for a Hangin'." Great chromatic guitar hook by Jason Green. In the deep groove of "Guilty," she "Ventured out one night to have myself a beer. Order a whiskey on the side....Never thought I'd end up doing time." And in the beautifully chorded, barrel-house title track, "Any Better Time," she describes a day in the life. "Stoppin' by couldn't pay the rent. Thought I'd give out my last cent. Cozied up to my favorite chair. Like my phone bill it's always there. I can't help but find any better time than this." In "Butterfly," she begs her lover, "Kiss my hand before you leave again...Smile at me while you drive away." But this song has a happy ending. "Touch my face when you walk in the door."
The diversity of musical styles keeps you glued from the first track to the last. From the opening rockers to the folk of "Ponytails," "Calgary," and "Brown Haired Girl," to the French organ grinder "For You," to the fifties sounding "Sparrow," and finally to the country picking of "On the Farm." The standout country waltz, "Lily's Song," features the sumptuous steel guitar of Gibb Wharton along with Santelli's luscious, overdubbed vocal harmonies. But the country blues rocker, "Ode to Bill," takes the cake. Starting off with just Santelli's hoarse, worn voice and finger-picked acoustic guitar, the band slips in one at a time until Popa Chubby lights a match with his ferocious guitar and explodes into a holocaust. It doesn't get more real than this.
So hitch your horse up to the Christine Santelli wagon. Climb on board, square everything away, lock yourself in, and prepare yourself for a perilous journey. Ah, but at the end, what tales you'll have to tell. For you will surely have lived.
©2009 Roger-Z