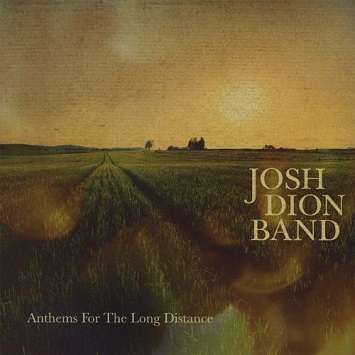 The amazing locomotive and creative force of The Josh Dion Band explodes in yet another great studio album -- "Anthems For The Long Distance". And yes, anthems abound. Formed as students at William Paterson University in New Jersey, the core band remains unchanged: Pat Firth (keys), Dan Hindman (guitar), Brian Killeen (bass), and Sara Versprille (vocals). But get prepared to meet the Civil Salvation Horns -- Nathan Eklund (trumpet, flugelhorn), Brian Drye (trombone), Mike McGinnis (tenor sax, clarinet), Justin Mullens (french horn), and Ron Caswell (tuba).
What do you get when you combine great songs, great singing, and great execution? Duh! A great CD. The studio plays a large part in this project. Justin Colletti recorded nine of ten tracks at Monsterland Studios in Brooklyn, NY. Peter Denenberg produced the last song at Acme Studios in Mamaroneck, NY. Tons of ambient sound makes the group seem like they recorded in someone's living room. It gives the CD a relaxed, intimate feel.
Dion and band composed all tunes. Outstanding cuts abound. I only wish they could have included a lyric sheet. "Walking on Stilts" features a spiritual message put to a rhythm reminiscent of The Band's "Cripple Creek". "When you're walking on stilts, you're gonna be misunderstood. People overlook the weight you carry. But when you're ready to fall, flaws and all, before hind sight you will see." The band chugs irresistibly on "Feel". The alliteration absolutely rivets. "When I feel, I feel like I wanna feel. When I steal, I steal like I wanna give. When I deal a deal, I'm a force to feeling true." "Pilot" uses an insistent eighth note groove to speak about lending guidance to someone who has suffered a tragic loss. "You can't help but answer to the call. That's why I'll be by your side. I'll be your pilot now. I'll be your guiding light". The insistent chorus of "Heartache" drills deep in your brain. In "Hold Fast", the singer begs his girl to wait for him to return. "Don't you run my baby, Hold fast. Hold out for this tidal wave cause I want it to last...wait for me, wait for me". The tour de force, "Take The Time", previously appeared on "Josh Dion Live!" and stands as pillar of their live set. "Don't count the second hand. The round about way is a better plan".
Combine The Band with Curtis Mayfield and you get an idea of the soulfulness of this group. They cut this totally independent, self-produced CD in five days, live in the studio with only the vocals and lead guitar overdubbed. Funny, that's the way they used to make all records! Feel the energy. Bathe in the vibe. Soak up the spirituality. Buy this outstanding CD and keep the love alive!
©2008 Roger-Z