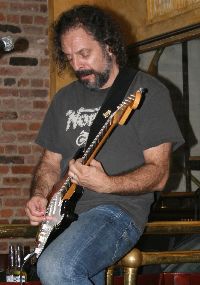 Andy Aledort & The Groove Kings
www.AndyAledort.com.com

09/07/07 11:00-1:30pm
Pete's Saloon
Elmsford, N.Y.
Concert review by Roger-Z (9/07/07)
Photo by John Apicelli
Appeared in More Sugar, October 2007, P. 20B
Frankly, I expected nothing less than the second coming, what with all the buzz generated by this event! Pete's Saloon in Elmsford always features the best musicians around and Andy Aledort's reputation places him near the top of the heap. He's played with The Allman Brothers, Dickey Betts, Double Trouble (Stevie Ray Vaughan), Paul Rodgers (Bad Company), Edgar Winter, Buddy Guy, and Billy Cox and Mitch Mitchell (Jimi Hendrix). My friend Steve slipped me Andy's new CD the previous week -- "Tete A Tete" featuring Aledort and Lucky Peterson. Photographer John Apicelli still has not stopped raving about Aledort's performance at the club last winter.
Racing around town trying to make the show, I didn't know what to expect. Andy Aledort and The Groove kings serve up a tangy stew of beefed-up, southern-fried blues and Hendrix tunes. The band consists of Andy Aledort (vocals, Stratocaster through a 50 Watt Marshall turned to face the side wall), Mike Dimeo (keyboards), Paul Apostolides (bass, vocals), and Vito Luzzi (drums).
Starting off with a funky guitar lick, Aledort eases into Freddie King's "I Wonder Why," singing in a gentle baritone. The band warms up slowly, the members feeling each other out, searching for the nights perfect pocket. Aledort solos first, followed by Dimeo on organ. The tune serves as a template for the rest of the night. Next up, Ray Charles' "I Don't Need No Doctor," done much like the John Scofield, John Mayer version. Great jazz chord turn around. The band begins to simmer. The rest of the set contains "The Stumble" (Freddie King), "Wrapped Up in Love Again" (Albert King), "Last Night" (Little Walter), and "Big Leg Woman." By the end, The Groove Kings percolate into a roaring boil with Aledort and Dimeo firing off riffs at each other, instigated by the thrusting rhythms of Apstolides and Luzzi.
The next set begins with a tearing version of Stevie Ray Vaughan's "Mary Had a Little Lamb." No warming up here, just firing on all cylinders right off the line. Next, a Johnny Winter tune, "One Step At a Time," followed by Freddie King's "Someday After a While." The latter, sung by the bassist, brings down the house. A special treat ensues -- Andy does Hendrix. Starting with a rockier than usual version of "Wind Cries Mary," the band flames through "Fire" and melts on "Little Wing." The crowd loves it! No wonder. The Jimi Hendrix estate chose Aledort to play a mini-tour this fall with original band members Billy Cox and Mitch Mitchell and special guests Buddy Guy, Kenny Wayne Shepherd, Robbie Krieger (Doors), Mick Taylor (Rolling Stones), and Double Trouble.
Aledort approaches the blues from a unique perspective. He plays across the beat like a jazz man, and then rips and slashes like a rocker. He loves to hook into the groove with an arpeggiated figure (or octaves) that move up and down the fret board -- slowly at first, then gathering up speed until they climax in a frantic, mandolin-like attack on the final chord. Stylistically, I place him closer to Peter Frampton than the three Kings (B.B., Albert, and Freddie). The band approaches the blues "book" much as jazz musicians treat "standards" -- as a starting point to launch their explorations of groove and melody. Spontaneity reigns supreme. No canned bag of tricks here.
So treat yourself to Andy Aledort and The Groove Kings live -- real musicians playing real music.
©2007 Roger-Z