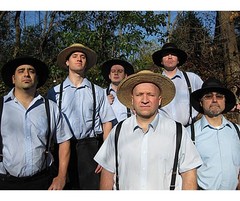 Amish Outlaws
"White Plains City Fest May 30, 2009 6:00 PM"
www.AmishOutlaws.com
Performance review by Roger-Z (06/15/09)
Appeared in More Sugar, July 2009, P. 12B
On my White Plains Cable TV show, "Working Musicians," singer Tom Dudley (Blues Buddha) recently described to me his modus operandi for performing live. He prides himself on jumping into the audience with his wireless mic and mingling with the crowd. So I asked, "Could you imagine two of you in one band?" He looked astounded. "Wouldn't they bump into each other?" "Not if they worked different sections," I said. Then I described the fabulous Amish Outlaw show at White Plains City Fest.
I love concept bands. Nothing works better for a cover group. You can go two ways -- tribute or unifying theme. "Tramps Like Us" does a great job of distilling Bruce Springsteen's music while not aping his appearance. "2U" on the other hand makes an effort to dress like U2 as well as play their music. On the other end of the spectrum, you get the theme bands. "The Nerds" have made a great living playing the tri-state area for years. Now enter "The Amish Outlaws." Both groups dress in "uniforms." However, they take an additional step which separates them from the other bands. They play a huge spectrum of material ranging from hip-hop to hard-rock to new-wave to disco. The Nerds' lead singer further differentiates himself by singing a lot of female material.
The Amish Outlaws dress in full Amish garb. Four of the six members actually grew up in the Amish community with only the drummer and guitarist crossing over from the "English" world. The band consists of Brother Amos Def (keyboards, guitar, banjo, vocals), Brother Big Daddy Abel (lead vocals, guitar), Brother Eazy Ezekiel (bass, vocals), Brother Hezekiah X (lead vocals), Brother Ishmael L Cool J (guitar), and Brother Jakob the Pipe Layer (drums).
The two lead vocalists delight in working the crowd into a manic frenzy. And no, they don't bang into each other! Brother Hezekiah X sings in a powerful, almost operatic voice while Brother Big Daddy Abel functions as the sex symbol using a gruffer vocal style. The band divides their sets into mini musical sections: punk rock ("Blitzkrieg Bop" by The Ramones, "Bad Reputation" by Joan Jett); hip hop ("Big Poppa" by Notorious B.I.G., "Big Pimpiní" by Jay Z, "Baby Got Back" by Sir Mix-A-Lot, "Bust a Move" by Young MC); oldies ("Can't Take My Eyes Off You" by Frankie Valli, "My First, My Last, My Everything" by Barry White); new wave ("500 Miles" by The Proclaimers, "Melt with You" by Modern English, "Whip It" by Devo). The highlight of the show occurred during the "big butt" contest. All the ladies were encouraged to take part and many did. At the end, they congratulated the winner -- "You have the biggest butt in White Plains!" She beamed with pride.
If you're looking for a night of maximum entertainment coupled with non-stop dancing, you can't beat The Amish Outlaws. After sixteen years of good behavior, they now unleash the animal within each night on stage!
©2009 Roger-Z