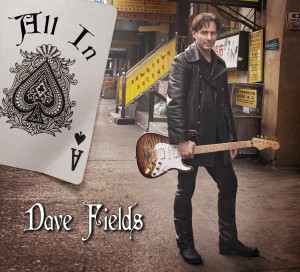 Dave Fields

"All In"
www.DaveFields.com
CDBaby.com/CD/DaveFields4
CD review by Roger-Z (08/15/14)

On the anniversary of Robert Johnson's death, I got to thinking about Dave Fields and his fifth CD, "All In." Johnson purportedly made a deal with the devil for the gift of music. Fields writes and performs all types of music ranging from blues, to jazz, funk, and rock. He does it on guitar, bass, keyboards, and drums. Dave Fields has everything a man could want -- looks, talent, a beautiful wife and child, and success. And he performs a hard rock version of "Crossroads" on this record. Is he really "All In?" They say Johnson died at age twenty-seven from poisoned whiskey given to him by a jealous husband. I wish Fields a long and prosperous life!
Sometimes I wonder why a man who can play everything chooses the blues. When asked the question, Fields responded that modern blues commonly incorporates "Eruption" style guitar solos - witness "Crossroads." My favorite songs on the CD inject something a little different into the genre. In "Let's Go Downtown," Fields lays down an irrepressible, Prince-like dance beat. Smells like a hit. "Changes In My Life" finds our hero struggling with anxiety in a forever changing world. Start with Eighties ZZ Top and add a dash of Hendrix. Tony Tino kills on the bass. "Wake up Jasper" takes a page from "Statesboro Blues." But instead of imploring his lover to get in the mood, Fields simply tries to get his son out of bed and ready for school! "Got a Hold on Me" pays homage to "Come On" by New Orleans guitar legend Earl King. "That's All Right" swallows the riff from David Bowie's "Fame" and mashes it to the beat of Billy Squire's "The Stroke." Zeppelin's "Black Dog" receives a sleek, funky makeover. I've played this song many times with Fields and it never fails to get everyone dancing. But the real surprise of the record lays in the gorgeous, sleek, acoustic, r&b harmonies of "Lover's Holiday. I defy any woman to listen to this and not want to rip her clothes off!
"All In" finds Dave Fields continuing his exploration and expansion of the blues with the aid of top NYC musicians Kenny Soule and Dave Moore (drums), Tony Tino and Andy Huenerberg (bass), and Vladimir Barsky (organ). Did Fields really hook up with the Devil? When does the bill come due?
©2014 Roger-Z