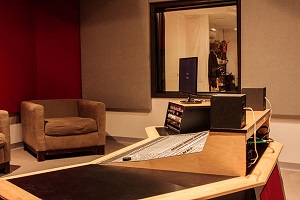 Alchemy Post Sound

"Leslie Bloome Interview"
www.AlchemyPostSound.com

Interview by Roger-Z (07/18/14)
Roger-Z: Talk about your brand new recording studio.
Leslie Bloome: Alchemy Post Sound was born out of the need for more space and better acoustics for the film side of our business. The added bonus to the project was that we were able to build an amazing sounding 1100 square foot live room for recording and showcasing music. This has always been a dream of mine! With its great natural acoustics, our live room produces an awesome sound. That being said, we did have to work very hard to put the studio together. We built a main and secondary control room as well as a large isolation room big enough for a full drum kit, horn section, etc. yet tight enough for vocals and voiceover/ADR. We also constructed a world class Foley stage. It took time, thought, and money to put this place together correctly. We had a great acoustical engineer, architect, and contractors to help us out along the way. In the end, we built some of the finest sounding rooms around.
We are located in the Hat Factory at 1000 No. Division St. in Peekskill, NY 10566. I truly love this very Bohemian complex. It kind of feels like we are south of Houston in NYC. You can find us on the web at AlchemyPostSound.com or call 914-737-7350.
Roger-Z: How does DTG Productions fit into the picture?
Leslie Bloome: We still have very personal relationships with a lot of the musicians who have rolled through DTG Productions. Many of them have come by the studio to check it out.
Roger-Z: Do you still put out DTG Sampler CD's?
Leslie Bloome: We have not done that in a while, but we are looking for new and up-and-coming bands to be featured in our monthly event "Live at the Alchemist's Kitchen." Starting in the Fall of 2014, these invitation-only affairs will feature and record two bands a night. The groups can use this opportunity to showcase their music as well as capture a live recording. Who knows, maybe an annual compilation will come of that.
Roger-Z: How's the summer shaping up for the studio?
Leslie Bloome: Summer tends to be really busy for us with film work. Right now we are working on a television show called "Royal Pains." We always have a slew of independent films, and we have booked several high-profile album projects for the end of summer.
Roger-Z: How's the bass playing going? Who do you work with now?
Leslie Bloome: Right now I play with the NY Uproar. We have a standing gig at the Eagles Lodge in Croton, NY on the third Friday of the month and play elsewhere in the area as well.
©2014 Roger-Z