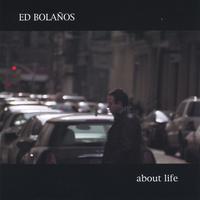 Ed Bolanos

"About Life"
CD Baby
CD review by Roger-Z (7/13/05)
Appeared in More Sugar, May 2006, P. 22A
Ed Bolanos's distinctive voice reaches into your heart and massages that positive, spiritual force that binds us all together. Born in Guatamala and raised on British rock in Portchester, NY, Mr. Bolanos blends "New Wave" romanticism with the lush sounds of Genesis. My thirteen year old daughter paid him the ultimate compliment when she asked me to make her a copy of the album. She loves his voice and his themes -- the wistful struggle to rise above the day to day things that bring us down.
"About Life" sounds amazingly full considering Ed Bolanos and producer Mike Tocci played all instruments. Highlights abound. Mr. Bolanos has mastered the art of the mid-tempo rock ballad. Since most of the tunes speak of romantic loss and a desire to reconnect, one can only imagine what the artist must be going through in his personal life. The poignant opener, "Moniknaj (Where I'll Be)," finds our hero pining alone in the cafe where he and his ex-lover used to hang out looking for inspiration. "The Poorest of Rich Girls" features Mr. Bolanos offering hope and support to a severely depressed child of the wealthy. In "Think of You," the singer finds himself awake at 2 AM with a pop melody stuck in his head that reminds him of his ex. "Ending" focuses on that heartbreaking moment when you know it's really, finally over. In "Crickets," the buzz of the insects in late August helps drown out the past.
A sensitive poet, Mr. Bolanos manages to hold his head high in the face of romantic adversity. Radio friendly singles abound on this record. Don't be surprised to hear one soon on your local pop radio station.
©2005 Roger-Z