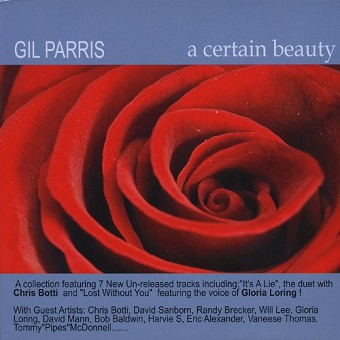 Gil Parris

"A Certain Beauty"
www.Gil Parris.com
CDBaby.com/cd/GilParris
CD review by Roger-Z (01/16/10)
Appeared in More Sugar, February 2010, P. 2A
"A Certain Beauty" marks the debut of Gil Parris' label, GPM Records. It serves as an amplified greatest hits package including seven new cuts. Though capable of playing in almost any style, Parris markets himself to the smooth jazz audience and has scaled those charts with considerable success. His 2007 live concert DVD, "Gil Parris and Friends" marvelously captured this side of Parris. The players on "A Certain Beauty" read like a "Who's Who" of contemporary jazz: Will Lee (bass), Kip Sophos (bass), Joe Ferry (bass), Bob Baldwin (keys), Matt King (keys), Pete Levin (keys), Paul Mariconda (keys), Phil Magallanes (keys), David Mann (sax), David Sanborn (sax), Randy Brecker (trumpet), Thierry Arpino (drums), Stuart Stahr (drums), Terry Silverlight (drums) and Joe Piteo (drums).
But this is not the side of Parris I like best. And it's not the side you'll hear at most of his local gigs. There, you'll find Parris catching on fire with rock, funk, blues, reggae, and country -- everything from The Doobie Brothers to Bob Marley, to Marvin Gaye and back to The Blues Brothers. With the soulful Curtis Winchester fronting the band, the dance floor fills up quickly. You can hear that energy on 'Ain't No Sunshine', previously released on Parris' wonderful "Live at The Next Door Cafe." Just listen to him run through his entire bag of tricks!
In this package, we get the jazzier, electronic aspect. His choice of singers (Gloria Loring, Tommy McDonnell, and Vaneese Thomas) tends toward the operatic -- big, full, rich voices. Outstanding guitar solos abound. "Back to Blue" features a snaky Stratocaster that would feel right at home on a Steely Dan album. And check out the beautiful counterpoint provide by Kip Sophos' bass. Contrast that midnight storm sound with the airy, acoustic beauty of the instrumental "Ibiza." Parris gets down with his funky self on "SugarMan" -- think of Soul Train meets Weather Report. He writes a mean, instrumental ballad and includes his best two: "It's a Lie" and "When Love Was New."
Now that Gil Parris has closed out the first part of his career with a greatest hits package, I'd like to see him embark in new directions. Like Carlos Santana, Parris owns a unique and instantly identifiable guitar sound. And like Santana, I hope that Parris will record a breakout CD along the lines of "Supernatural" spotlighting collaboration with contemporary rockers and funksters alike.
©2010 Roger-Z