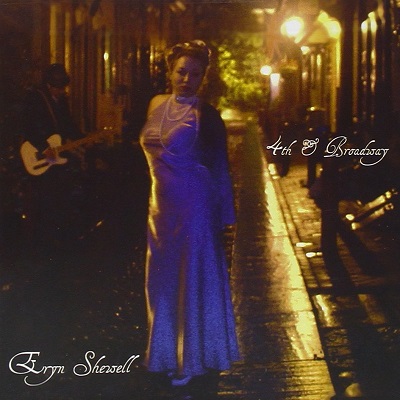 Eryn Shewell

"4th & Broadway"
www.ErynShewell.com
CDBaby.com/cd/ErynShewell2
Appeared in More Sugar and CT Sound, July 2010
CD review by Roger-Z (05/14/10)
Eryn Shewell should have gone all the way on American Idol. This diva sports attitude and pipes to match. Her feelings run deep and she sure knows how to express them on her second CD, "4th & Broadway." Shewell co-wrote all twelve songs, mostly with guitarist/music director, Pat Ruh -- her secret weapon. Ruh does a fantastic job of creating tasteful guitar arrangements on a broad range of musical styles. Shewell and Ruh co-produced the album. Musicians include Eryn Shewell (vocals, guitar, percussion), Pat Ruh (guitars, mandolin, bass), Tanya Peterson (backing vocals), Antonio Gambrell (trumpet), Arne Wendt (keyboards), Tom Cottone (drums), Chuggy Carter (percussion), Steve Johnson (bass), Apolinar Padilla Jr. (bass), Bernhard Lackner (bass), Sam Getz (pedal steel), and Andy Citkowicz (sax).
Like most divas, Shewell deals almost exclusively with affairs of the heart. The record starts with the dreamy "Beloved Goodbyes," a softly swaying paean to an imaginary lover, now departed. "Already Wrote This Song" brings to mind The Beatle's "For You Blue." It features a fabulous trumpet solo (one of many) by Antonio Gambrell as well as Harissonesque slide guitar by Pat Ruh. Shewell belts out, "I already wrote the song I'm feeling right now. Nothing's changed and I don't know how. Feeling the same way for so long." The melancholic "Don't You See" finds Shewell pleading for understanding as she explains why she chose a career in music over taking a good job in another city. "Don't you see what this means to me? I'm not wasting time in dream land. Don't you see what this does to me? I just which you could understand." "Moment" captures the flavor of Corrine Bailey Rae. The light-hearted music contrasts with the sad message. "My heart shattered for a moment. Just one little moment. When I misunderstood you. What it was that you meant." Delectable acoustic guitar arranged and another beautiful trumpet solo.
So many great tunes and so little space to discuss them. "Satellite" harkens back to those great rock-disco songs of the seventies. Pat Ruh mixes rock guitar with some nice jazz chords and octaves. "I've been strung strung strung with a real big string." Just listen in amazement as she unleashes a torrent of high register emotion during the outro. Lou Christie's got nothing on her! "I Would Wait Forever" explores Shewell's "Year of the Cat" side. "How much longer can I wait today? I want to hear your sighs after kissing your eyes."
And that's just the first six cuts! And yes, I listened to the whole album! Over and over.
So many things must come together to make it in the music business. Before the stars align correctly, do yourself a favor. Pick up this record and catch an Eryn Shewell gig in South Jersey!
©2010 Roger-Z